Bakersfield Bullets Player Salaries

Gene Alley, SS, 22, $23K (Arb 66)
Jesus Alou, RF, 21, $23K (Arb 66)
Bob Bailey, 3B, 20, $23K (Arb 66)
Jose Cardenal, CF, 19, $23K (Arb 66)
Donn Clendenon, 1B, 27, $23K (Arb 65)
Jerry Grote, C, 20, $23K (Arb 66)
Mack Jones, RF, 24, $327K (Arb 65)
Denis Menke, 2B, 22, $23K (Arb 65)
Tony Oliva, RF, 24, $23K (Arb 66)
Wes Parker, 1B, 23, $23K (Arb 66)
Tony Perez, 1B, 20, $23K (Arb 66)
Don Pavletich, C, 24, $327K (Arb 65)
Roger Repoz, CF, 22, $23K (Arb 66)
Cookie Rojas, 2B, 24, $23K (Arb 65)
Wade Blasingame, SP, 19, $23K (Arb 66)
Clay Carroll, RP, 21, $23K (Arb 66)
Ray Culp, SP, 21, $410K (Arb 66)
Hank Fischer, RP, 23, $23K (Arb 65)
Steve Hargan, SP, 20, $23K (Arb 66)
Ron Herbel, RP, 25, $23K (Arb 66)
Bruce Howard, SP, 20, $23K (Arb 66)
Dick Kelley, RP, 23, $23K (Arb 66)
Marcelino Lopez, SP, 19, $23K (Arb 66)
Ron Reed, RP, 20, $23K (Arb 66)
Jim Roland, RP, 20, $327K (Arb 66)
Team Salary: $1,874,000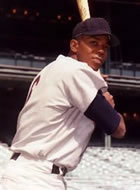 Tony Oliva* showed up at the facility during the off-day between the Spokane series and the upcoming one with Atlanta. Tony's a nice kid, and very talented; he got to play for the Dusters on their expanded roster last September -- hit .294 in 17 at-bats with a run and three RBI -- and apparently there was some discord between his manager and the Dusters front office regarding his salary. I don't know the details and don't want to know. It may be that Tony just got some bad advice from his agent -- wouldn't be the first time something like that happened -- but he's sitting the next series out, nonetheless. We could use him, no question -- a guy like Tony Oliva can win some games for you -- but he didn't report when he should have, so he sits. Not for long, though. I expect Tony will be back with the Dusters before too much time has passed. To make room for him, Paul Blair had to pack his bags for Salt Lake City.
Atlanta Crackers: Billy Williams (cf), Doug Clemens (rf), Duke Carmel (lf), Jeoff Long (1b), Ed Spiezio (3b), Dave Ricketts (c), Bud Bloomfield (ss), Phil Gagliano (2b), Nelson Briles (sp)
Game 1, April 5
The Atlanta Crackers came in 2-1, same as us, and they've got a very good pitching staff, in my opinion. Our starter, Steve Hargan, was not at his best, getting into a bases-loaded jam in the 2nd; he was fortunate to get out of that with just one Atlanta run scored. Our batters seemed to have trouble with Nelson Briles, but I was happy to see that they adjusted, and before it was over we'd collected 13 hits, with every position player getting at least one. We were down 2-1 in the 3rd when Jose Cardenal singled, stole second, and scored on a Roger Repoz hit. Briles walked two to open the 4th and RBI singles by Denis Menke and Gene Alley put us ahead 3-2. The 5th was our big inning -- four runs on four hits -- and Alley was responsible for two of those runs off his double. (Alley finished 3-for-4 with three ribbies; it was just a matter of time before he started hitting.) Repoz doubled to open the 6th, stole second, and scored on a Bob Bailey single, making it 8-2, and that was it for Briles, who threw 105 pitches today. I don't know why they left him in so long. Hargan allowed the two runs on five hits through four; Dick Kelley, who pitched three scoreless innings, got the win.
Lineup: Cardenal, Repoz, Jones, Bailey, Parker, Menke, Pavletich, Alley, Hargan
Record: 3-1
Bullets 8, Crackers 2
Game 2, April 6
With Bob Bailey out a few days with a sore tricep, I had an opportunity to see Tony Perez at third, but in a game featuring Ray Culp and Steve Carlton -- pitchers who are bound to have long and productive careers in the Bigs --there wasn't a lot of fielding action. Culp struck out six in 6.1 innings, Carlton seven in seven innings, and it was really just a question of who would make the mistake. That turned out to be Carlton, early; he walked Jose Cardenal, who stole second, then walked Wes Parker, and Cardenal and Parker moved over when Carlton threw a wild pitch, and then Cardenal scored on another wild pitch and we led 1-0 without a hit. Carlton walked two more in the 5th and we loaded the bases but came up empty and we had men on second and third in the 7th, with the same result. Fortunately, we only needed the one run, as Culp and Ron Herbel and Ron Reed pitched magnificently. They ended up with five hits, we got two, and Culp improved to 2-0.
Lineup: Cardenal, Parker, Repoz, Alou, Perez, Menke, Alley, Pavletich, Culp
Recorfd: 4-1
Bullets 1, Crackers 0
Game 3, April 7
Wade Blasingame got his first start for the Bullets, and outfielder Gary Kolb was in the Atlanta lineup -- I knew Conn Hudson had been interested in getting Kolb into the Dusters organization but it hadn't, as yet, worked out. Jeoff Long opened the Atlanta second with a solo homer -- the first our pitching has allowed this year -- and they tacked on another run in the third. I lost count of how many bases-loaded opportunities we had, but we stranded eighteen in the game. Frustrating. Give their starter, Jim Bibby, credit for getting out of trouble time and time again. We cut their lead in half in the 4th when Jose Cardenal singled, Donn Clendenon walked, and Roger Repoz drove in Cardenal with a single. Then, in the 9th down 2-1, Atlanta reliever Harry Fanok walked Gene Alley, Cookie Rojas bunted his way on, the two of them were bunted over, and Alley tagged up and scored on a Cardenal sac fly to tie the game. Clendenon doubled down the left field line and Rojas scored the winning run. An exciting finish. Blasingame allowed two runs on six hits and struck out five in five innings, while Ron Herbel, who pitched two scoreless innings, got the win. I let Conn know that Kolb went 1-for-3 and looked solid at the plate and in the field. The Dusters opened their second series today against the Phillies, winning to go 4-0. **
Lineup: Cardenal, Clendenon, Repoz, Jones, Perez, Grote, Alley, Rojas, Blasingame
Record: 5-1
Bullets 3, Crackers 2
* I'd overlooked the fact that Oliva didn't join the Dusters until April 22, so he'll be with the Bullets until then.
** Page 6, Post 87.