Evangeline Field
Spokane Indians: Jim Barbieri (rf), Derrell Griffith (3b), Ken McMullen (cf), Al Ferrara (lf), Dick Nen(1b), Jim Capanis (c), Bart Shirley (ss), Dick Tracewski (2b), Phil Ortega (sp)
Game 1, April 1
It was a packed house (5215) at Evangeline Field for Opening Day to watch a pair of starters, our Ray Culp and their Phil Ortega, both of whom had some major league experience, duel it out. We drew first blood. Ortega walked Culp in the 3rd and Donn Clendenon smacked a two-run homer to left-center. That's all the scoring there was for seven innings. We had men in scoring position at times, and so did Spokane, but Culp pitched very well (6.0ip, 2h, 2bb, 0r, 0er, 4k, 88pit) and, except for that one he left hanging over the middle of the plate for Clendenon, so did Ortega. In the top of the 8th Jim Roland walked the bases loaded -- Jim's a talented pitcher but inconsistent -- but Ron Herbel got us out of that jam. In our half of the inning, with Ken Rowe on the hill for the Indians, Bob Bailey stretched a single into a double and scored on a Don Pavletich knock to give us a 3-0 advantage. Herbel retired the side, in order, in the top of the 9th and we'd won the opener. We had seven hits -- four of them doubles, one a roundtripper. Culp got the win, Herbel the save. Conn Hudson called to tell me the Dusters had won their home opener, too, 5-4 against the Phillies. Good news all around.
Lineup: Cardenal, Clendenon, Jones, Bailey, Menke, Pavletich, Alou, Alley, Culp
Record: 1-0
Bullets 3, Indians 0
Game 2, April 2
One of my jobs is to get all the guys plenty of playing time. How else do we find out if they have what it takes to make it in The Show? So the lineup rarely stays the same one game to the next. Cookie Rojas got the nod at second base, Jerry Grote as backstop. Their starter, Bill Singer, brought some heat, striking out seven, allowing just four hits. But four was enough, because Bruce Howard, Hank Fischer and Ron Reed combined gave up just two. In fact, Howard left the game after five with a no-hitter going. Clendenon hit another bomb, this one a solo, to put us up 2-0 in the 1st. In the 2nd Rojas reached second on an error and scored on a Grote single. And that was it. I don't think anybody even got to third base after that.
Lineup: Cardenal, Clendenon, Jones, Bailey, Rojas, Grote, Alou, Alley, Howard
Record: 2-0
Bullets 2, Indians 0
Game 3, April 3
Paul Blair and Roger Repoz started in the outfield for the third game, which featured a couple of fastball pitchers, our Marcelino Lopez and Spokane's Nick Willhite. For the first three innings nobody could get a hit. But then, in the 4th, Ken McMullen caught up with one of Marcelino's 95+ pitches, and so did Jim Campanis, scoring McMullen, and so did Dick Tracewski, scoring Campanis. Marcelino has a good screwball but he doesn't use it enough. Cleo James opened the Spokane 5th with a double and then scored to give them a 3-0 edge. Roger Repoz, who went 2-for-3 with two runs and a pair of ribbies, walked, went to third on a Pavletich double, and scored on a Mack Jones sac fly to remove our goose-egg, and in the 7th Denis Menke walked and Repoz cranked a two-run homer out of the park to tie the game 3-all. It remained that way until the 9th when the Indians put on a squeeze play with runners at second and third, scoring the go-ahead run. Then Pavletich allowed a passed ball and another run scored. Still, we won our first series of the year and that beats the alternative. Upstairs, the Dusters swept the Phillies, so they're off and running.
Lineup: Blair, Clendenon, Alou, Perez, Menke, Repoz, Alley, Pavletich, Lopez
Record: 2-1
Indians 5, Bullets 3
Scouting Report:
Jose Cardenal (CF)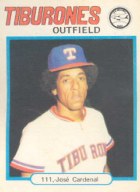 Cardenal should develop into an outstanding player with excellent speed and excellent patience at the plate. He may need some time to adjust to major league pitching, but I am confident that he can do that. Jose won't be with us long; I fully expect him to be joining the Dusters in a year or two, where I would be surprised if he doesn't become a fixture in center field for a long time to come.
Contact 78, Power 70, Speed 80, Eye 78, Arm 87, Range 78, Fielding 69, Health 82, Overall 77, Peak 96
1962 Stats: 218ab, 80h, 46r, 47rbi, 6hr, 29bb, 17k, 14sb, .367/.444/.532
Nickname: "Junior"
Born: October 7, 1943 (Matanzas, Cuba)
Bats Right
Throws Right
5' 10"
150 lbs.