Oliva Called Up
Conn Hudson contacted me before our first game with the Travelers to inform me that he had traded infielder Johnny Schaive, which left an opening on the Duster roster which he wanted to fill with Tony Oliva. The series in Little Rock will be Tony's last one with us, at least for a while and maybe forever. I think he will have a long and illustrious career in the majors and I wished him well. His stats with the Bullets...
14g, 43ab, 12h, 8rbi, 5r, 1hr, 1bb, 8k, 1sb, .279/.298/.395
He started nine games, played 82 innings and had seventeen putouts with no assists and two errors. Paul Blair will be called up from the Salt Lake City Saints (AA) to join us in Bakersfield for our next home series, April 25-27 with the Spokane Indians.
The Arkansas Travelers have a couple of excellent starting pitchers, Fergie Jenkins and Pat Jarvis. We'll get to face Jenkins, which will be a challenge, as he's one of the most talented hurlers at this level. And big leaguer Johnny Callison is with the Travelers on a rehab assignment. It's good for our pitchers to face big league hitting, and for our hitters to face big league pitching, and I hope there'll be many more opportunities such as this one as the season goes on.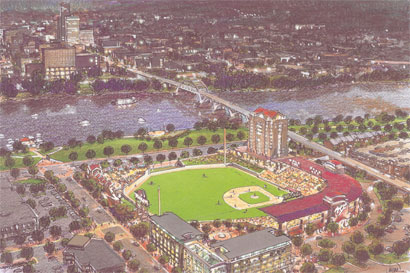 Travelers Field, Little Rock (330L, 390C, 345R)
Bakersfield 10-5 Arkansas 10-8
Arkansas Travelers: Adolfo Phillips (cf), Rich Barry (rf), Gary Sutherland (2b), Johnny Callison (ss), Mickey Harrington (1b), Cal Emery (3b), John Herrnstein (lf), Del Bates (c), Jeff James (sp)
Game 1, April 22
We got this one started in proper fashion, as Donn Clendenon drew a walk and stole second before scoring on a Tony Oliva single. Then Gene Alley, who has been hitting extremely well (2-for-4 today with a .333 BA) drove in Oliva. We tacked on two more runs in the third; once again Clendenon got things going, this time with a single, and scored on an Oliva sac fly before Denis Menke's RBI single made it 4-0. Our starter, Wade Blasingame (0-1), had much better control than he demonstrated in his previous start, though he got into a bind in the 4th. He walked Johnny Callison, Mickey Harrington reached on an infield single, and Wade's balk moved them over to second and third. But he fanned John Herrnstein to hold the Travelers scoreless. In the home 5th Jose Cardenal made an error that allowed Del Bates to reach first; Gary Kroll bunted Bates to second and a wild pitch by Blasingame moved him to third. But Wade struck out Adolfo Phillips and Rich Barry flied out to center to end that threat. Cardenal's two-run homer in the 6th gave us a comfortable lead, but it became less comfortable when Herrnstein hit a three-run homer off reliever Clay Carroll in the bottom of the 6th. We got an insurance run in the 7th and held on to give Blasingame (5.0ip, 1h, 3bb, 0r, 0er, 5k, 2.57era) his first win of the year.
Lineup: Cardenal, Clendenon, Repoz, Oliva, Alley, Grote, Menke, Bailey, Blasingame
Record: 11-5
Bullets 7, Travelers 3
Game 2, April 23
It looked as though the shoe was on the other foot as this game progressed, with Arkansas taking a 5-0 lead into the 7th. Their centerfielder, Adolfo Phillips, singled, stole second, and scored on a Mickey Harrington hit in the 1st, and doubles by Johnny Herrnstein and Del Bates made it 2-0 Travelers in the 2nd. Our starter, Bruce Howard (2-1) had a decent outing -- until the 5th, that is, when they scored three runs on four hits, so that was all for Bruce, who seemed destined to get his second loss of the season. But that's one of the great things about baseball -- it ain't over till it's over. In our half of the 7th, with men on second and third, pinch-hitter Donn Clendenon clubbed a three-run dinger over Travelers Field's left field fence. Then, in the 8th, they committed a pair of errors and one of them gave us a pair of runs. The other one set the stage for Bob Bailey's RBI single, and suddenly we were ahead 6-5. Ron Herbel didn't let an Arkansas player reach base in the 8th and 9th, and we had our fourth straight victory, which kept us a game-and-a-half ahead of the Tacoma Giants (11-7), who have also won four in a row. Dick Kelley, who pitched 2.1 innings of scoreless ball, got the win, improving to 3-1, while Herbel notched his second save. Outfielder Jesus Alou, whom I hope might step up after Oliva's departure, was 1-for-3 with a walk. Jesus is the younger brother of Matty and Felipe Alou, both of whom are in the big league now.
Lineup: Parker, Perez, Repoz, Pavletich, Rojas, Menke, Jones, Alou, Howard
Record: 12-5
Bullets 6, Travelers 5
Game 3, April 24
Well, we got to face Fergie Jenkins after all. Jenkins has quite an arsenal for a 20-year-old -- four-seamer, two-seamer, slider, curve and forkball, and they're all good. Our starter was Marcelino Lopez; the question on many minds is whether he's quite ready for this level, having missed much of last season with an injury. Lopez had a rough second. He walked a pair and threw a wild pitch to allow a run to score before Del Bates hit a two-run single to make it 3-0 Arkansas. Donn Clendenon tripled and scored in the 4th and Mack Jones homered in the 5th to cut their lead to one. But then their left fielder, Rich Barry, homered in the 5th off Dick Kelley and Adolfo Phillips did likewise in the 7th for two runs off Jim Roland, (who isn't doing well at all so far this year). That extended their lead to 6-2. Singles by Oliva and Clendenon in the 8th set up Bob Bailey's three-run shot to right and we were back to being just one run down, but even though we got a man to second in the 9th we came up short, and lost. Bailey went 2-for-4 with four ribbies and his second long ball of the season. Lopez allowed three runs on two hits while walking four in his four innings on the mound. He's 0-2 now, with a 7.63 ERA, but in my opinion it's much too early to give up on him.
Lineup: Cardenal, Alley, Oliva, Clendenon, Bailey, Rojas, Alou, Grote, Lopez
Record: 12-6
Travelers 6, Bullets 5
Scouting Report:
Bruce Howard (SP)


Howard has a strong, healthy arm and above-average velocity on his fastball. With work on his technique, he should fit into a major league pitching staff.
Endurance 60, Control 64, Power, 82, Movement 56, Defense 91, Hitting 66, Health 75, Overall 68, Peak 85
Two-Seamer 73, Curve 66, Slider 60, Palmball 55
1962 stats: 10gs, 5W, 2L, 2.65era, 68.0ip, 27r, 20er, 59h, 3hr, 27bb, 37k, .228baa
Born: March 23, 1943 (Salisbury, MD)
Bats Switch
Throws Right
6'2"
180