Depth Chart Assessments


Gene Alley and Tony Perez
Foremost on every one of the player's minds is when and if they'll get a shot in the big league. Much of that depends on the health and quality of play of the ballplayers with the Nevada Dusters. Here's a look at the depth, by position, in the Dusters organization at the major and AAA level, with the Bakersfield players in italics...
C: Johnny Blanchard, Cam Carreon, Don Pavletich, Jerry Grote
Johnny Blanchard led the team in homers and the league in throwing out baserunners last year. He is signed through 1965. Cam Carreon is an extremely good catcher who would be starting for some teams, and is signed through 1964. Pavletich has played in the bigs before, and will be the one to move up if something happens to Blanchard or Carreon. Grote will have to bide his time at this level for a while.
1B: Vic Power, Gordy Coleman, Donn Clendenon, Tony Perez, Wes Parker
Power is signed through 1964 and having the best years of his career with the Dusters, but he's 35 years old. Gordy Coleman is signed on for this year, and is a very capable backup and excellent hitter coming off the bench. But I expect the Dusters to make room for Clendenon by next season, if not sooner. The problem is that Perez and Parker are both extremely talented and but a year or two away from being ready to move up. Perez can play third base in a pinch, but Parker can't -- he's strictly a first baseman. Unfortunately, I don't see how both can stay with the organization.
2B: Jerry Adair, Ken Hubbs, Denis Menke, Cookie Rojas
It's likely that Adair is the Nevada Dusters second baseman for the next few years -- he is signed until 1965. Menke will soon be ready to move up, and he will have to compete with Ken Hubbs for the backup spot. The word on Hubbs is that he is immensely talented but not playing up to the level the Dusters expected, so Menke has a chance. Rojas is a great prospect, but needs a year or two more in the minors.
3B: Clete Boyer, Bob Bailey
Clete Boyer is signed through the 1966 season, and my impression is that he's pretty much a fixture at the hot corner. His backup is outfielder Hector Lopez, now that Johnny Schaive has been traded, so the attention is focused on Bob Bailey as the heir apparent at third base. Bailey needs to have a very good year with the Bullets to prove he's ready. If not, then Perez is an option.
SS: Maury Wills, Gene Alley
The big story in the offseason was Nevada's acquisition of Wills. He is signed on through 1967 and I don't see the Dusters parting with him. With Schaive gone, Hubbs is Maury's backup, but the opportunity is there for Gene Alley to move into that position. Only problem is, he will have to compete with Menke, too, because the Dusters will probably only keep three middle infielders on the roster. So Alley has to have a big year with the Bullets, too.
LF: Billy Williams, Hector Lopez, Lou Johnson
I expect the Dusters to re-sign Williams at the end of the year. He led the team in most offensive categories last season. The only issue is the cost -- his price will stretch Conn Hudson's wallet to the breaking point. Assuming he is re-signed, left field is locked down for years to come. Lopez has one more year on his contract and I don't know if the Dusters will extend his contract. The verdict is still out on Johnson. Among the Bakersfield outfielders, Jesus Alou rates best in left, with Cardenal and Blair also on the list, though none of them is actually on the chart as a natural leftfielder. That's probably just as well, as long as Williams is with the Dusters.
CF: Tom Tresh, Jose Cardenal, Roger Repoz, Paul Blair
Tresh came into the league as a shortstop but has proved to be one of the best centerfielders in the league, and I expect him to be with the Dusters for a long time, especially now that Maury Wills is at short. That presents a problem for Cardenal and Repoz, who will soon be ready to move up. Fortunately for Cardenal, he rates nearly as good in left or right field, and I know the expectations in Las Vegas are that he will soon get his shot wit hthe Dusters. They'll find a place for him, but I don't know if the same can be said for Repoz or Blair. (Blair, like Cardenal, can play all fields, but Repoz isn't so lucky.)
RF: Lee Maye, Tony Oliva, Mack Jones, Jesus Alou, Paul Blair
Lee Maye (signed through 1964) has become a key component in the success of the Nevada Dusters -- moreso than probably anyone expected. Assuming Oliva does as well as everyone thinks he will, right field is pretty much locked. Jones has had a shot at the Bigs, and didn't meet expectations; still, my sense is that the organization is reluctant to give up on him. Alou and Blair are great prospects, and they're lucky they can play the other fields. Still, with Williams, Tresh, Maye, Oliva and Cardenal, there isn't going to be a whole lot of room left in the Nevada outfield in the years to come.
SP: Joe Horlen, Tony Cloninger, Dave McNally, Jim Bouton, Phil Niekro, Ray Culp, Wade Blasingame, Bruce Howard, Marcelino Lopez, Steve Hargan
The Dusters have had great good fortune with their starters. Horlen, Cloninger and McNally are all extremely talented and have performed well. They are also making the minimum salary until 1965. (Bouton and Niekro are signed through 1966). There won't be much movement in the rotation unless one of the Nevada starters suffers a long-term injury, God forbid. But Ray Culp may be the only one of Bakersfield's hurlers who is ready, or nearly so, to pitch at the next level anyway.
RP: Bill Dailey, Claude Raymond, Barney Schultz, Bob Duliba, Jim Brewer, Pete Richert, Ron Reed, Ron Herbel, Hank Fischer, Dick Kelley, Clay Carroll, Jim Roland
It's hard to say what will happen in the bullpen. Relievers can pitch extremely well one month and then poorly the next. They can have a great season followed by an awful one. My opinion is that Raymond and Brewer are going to be consistent firemen for the Dusters. I know that the organization wants to hold onto Richert (signed through 1965) because he is a capable starter, at least while the verdict is still out on Bouton and Niekro. Schultz and Duliba are signed through 1963, so financial considerations may affect their stay with the Dusters, too. In short, the situation is very fluid, and anything can happen. The entire Bakersfield bullpen has the potential, but they will have to perform consistently well this year to prove themselves worthy of a call up. Roland, particularly, as he has been called up before and faltered. His blazing fastball and the fact that he's a lefty keeps him in consideration.
DL: none
Spokane Indians: Cleo James (cf), Derrell Griffith (3b), Ken McMullen (lf), Al Ferrara (rf), Dick Nen (1b), Jim Capanis (c), Bert Shirley (ss), Dick Tracewski (2b), Bill Singer (sp)
Bakersfield 12-6 Spokane 8-13
Game 1, April 25
A key element of our success thus far has been our lineup's ability to solve a pitcher, and that happened again today, as Spokane's Bill Singer pretty much had his way the first time through our order. The second time, through, however, we got to him. We were trailing 1-0 in the 4th when Gene Alley walked and Don Pavletich knocked him in with a double; then Tony Perez singled up the middle and Pavletich scored from second to put us on top 2-1. They tied the game in the 5th, but in our half of the inning Singer walked two and threw a wild pitch, and a fielding error by Spokane centerfielder Cleo James allowed a run to score. Bob Bailey tripled and scored on another wild pitch in the 6th and we led 4-2. In the 7th Donn Clendenon walked, moved to third on a Jose Cardenal double, and made it 5-2 on a sac fly by Roger Repoz. Steve Hargan started for us, and did well, allowing two runs on five hits through 5.1 innings. The bullpen combo of Herbel, Fischer and Reed held the Indians scoreless. Herbel came in with two on and one out in the 6th and struck out a pair, and they had two on with one out again in the 7th but Herbel got out of that mess, too, without allowing a run to score. A good game all around, with third baseman Bailey finishing 2-for-4 with a double and a triple, and Hargan improving to 2-1.
Lineup: Cardenal, Repoz, Alley, Pavletich, Perez, Bailey, Rojas, Menke, Hargan
Record:13-6
Bullets 5, Indians 2
Game 2, April 26
They tell me we had our fourteenth consecutive sellout at Evangeline today. Nothing like winning to keep the turnstiles spinning. Jose Cardenal sat this one out and Paul Blair, just up from AA Salt Lake City, took over in left field. Blair did well -- 2-for-4 with a run scored and stolen base. Ray Culp pitched inconsistently today. In the 1st he walked two and threw a wild pitch and Spokane took a 1-0 lead, but it might have been worse. He fanned five of the next nine Spokane batters, threw another wild pitch and walked a few more, but he seems to have a knack for getting the job done, and left after five innings of work with a 2-1 lead. Clay Carroll took the mound in the 6th, and an inning later the Indians took the lead by scoring a pair on three hits, all singles. Hank Fischer came in to strike out George Kopacz and end their rally. They made wholesale changes in the bottom of the 7th, bringing in the "hands team" but it didn't help them any because Denis Menke singled in a run before Bob Bailey got the big hit -- a two-run double -- and Don Pavletich drove in Bailey to put us up 6-3. Fischer closed it out and got the win, tallying four K's. Bailey went 2-for-4 again today, and Donn Clendenon was 2-for-3.
Lineup: Alley, Clendenon, Repoz, Bailey, Pavletich, Rojas, Alou, Blair, Culp
Record: 14-6
Bullets 6, Indians 3
Game 3, April 27
We took the field today looking for our second sweep of the season, and I thought our odds were good against Jack Billingham, who was 0-3. Most of our home runs hitters sat on the bench today, to give the others a start, so that put some pressure on Wade Blasingame, and he responded with a great performance -- no runs on just two hits allowed in 5.1 innings. The pressure came off in the 4th, when we scored six runs. An RBI single by Mack Jones and a two-run double by Wes Parker got the first three. Then Billingham threw two wild pitches and two more runs scored to clear the bases. Jerry Grote and Blasingame singled and a third wild pitch moved them over for Gene Alley, who knocked them both in with a single to make it 6-0. Cardenal hit a double with the bases loaded in the 8th to add three more runs to our total. I left Blasingame in long enough to qualify and then summoned Jim Roland from the bullpen. Roland walked one and threw a wild pitch of his own, and that combined with a rare fielding error by shortstop Alley gave the Indians two runs on just one hit. Ron Reed closed it out for us, fanning the last two batters he faced. Blasingame got the win and is 2-1. We got our sweep, and at 15-6 are two games ahead of the Tacoma Giants. The Dusters lost two out of three with the Cardinals, but the one victory kept them a game ahead of the Redbirds on top of the NL at 17-7.
Lineup: Alley, Cardenal, Bailey, Rojas, Jones, Parker, Blair, Grote, Blasingame
Record: 15-6
Bullets 9, Indians 2
Standings (as of April 27)
PACIFIC COAST LEAGUE
Bakersfield 15-6 .714 --- .266 3.80
Tacoma 13-8 .619 2.0 .266 3.57
San Diego 9-12 .429 6.0 .269 3.68
Spokane 8-16 .333 8.5 .241 5.02
Salt Lake City 8-16 .333 8.5 .253 3.51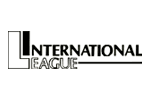 INTERNATIONAL LEAGUE
Arkansas 14-10 .583 --- .256 3.83
Buffalo 14-10 .583 --- .238 4.37
Oklahoma City 12-11 .522 1.5 .268 5.27
Atlanta 9-11 .450 3.0 .257 3.93
Columbus 11-13 .458 3.0 .244 3.56
Scouting Report:
Roger Repoz (CF)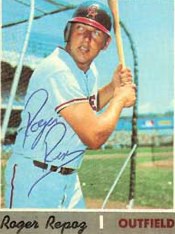 Repoz has a variety of skills that serve him well as a center fielder. But he is hitting just .184 in his last ten games and still needs substantial time in the minors if he's to have a chance of making it in the big leagues.
Contact 60, Power 69, Speed 70, Eye 73, Arm 61, Range 64, Fielding 67, Health 69, Overall 61, Peak 65
1962 Stats: 100ab, 33h, 19r, 24rbi, 5hr, 19bb, 21k, 1sb, .330/.440/.550
Born August 3, 1940 (Bellingham, WA)
Bats Left
Throws Left
6'3"
195