Bakersfield Bullets Player States (as of April 15)
Last,First,Team,G,AVG,AB,H,2B,3B,HR,BB,K,SB,CS,R,RBI,SLG,OBP
Alou,Jesus,BAK,6,.105,19,2,0,0,0,1,1,0,0,0,2,.105,.150
Cardenal,Jose,BAK,11,.238,42,10,1,0,1,3,8,6,0,9,4,.333,.283
Menke,Denis,BAK,12,.226,31,7,4,0,0,3,3,0,0,3,2,.355,.286
Grote,Jerry,BAK,4,.462,13,6,0,0,0,1,5,0,1,1,1,.462,.500
Perez,Tony,BAK,6,.235,17,4,0,0,1,5,6,0,0,1,2,.412,.409
Oliva,Tony,BAK,10,.308,26,8,2,0,1,0,4,0,0,3,6,.500,.321
Repoz,Roger,BAK,10,.258,31,8,4,0,1,8,12,2,0,5,8,.484,.400
Jones,Mack,BAK,11,.231,26,6,1,0,0,3,9,0,0,3,2,.269,.300
Parker,Wes,BAK,4,.200,10,2,0,0,0,6,0,0,0,2,1,.200,.500
Bailey,Bob,BAK,8,.233,30,7,1,0,1,1,7,0,0,4,3,.367,.258
Alley,Gene,BAK,11,.278,36,10,1,0,1,7,5,0,0,2,6,.389,.409
Rojas,Cookie,BAK,6,.316,19,6,0,0,0,1,5,0,0,4,0,.316,.350
Pavletich,Don,BAK,12,.353,34,12,2,1,1,2,4,0,0,7,7,.559,.405
Clendenon,Donn,BAK,12,.250,36,9,2,0,3,2,10,0,0,8,10,.556,.282
Blair,Paul,BAK,1,.000,4,0,0,0,0,0,1,0,0,0,0,.000,.000
Culp,Ray,BAK,3,.000,4,0,0,0,0,1,2,0,0,1,0,.000,.200
Blasingame,Wade,BAK,2,.000,3,0,0,0,0,0,1,0,0,0,0,.000,.000
Howard,Bruce,BAK,3,.000,4,0,0,0,0,0,2,0,0,1,0,.000,.000
Lopez,Marcelino,BAK,2,.333,3,1,0,0,0,0,0,0,0,1,0,.333,.333
Hargan,Steve,BAK,2,.000,3,0,0,0,0,0,2,0,0,0,0,.000,.000
Herbel,Ron,BAK,0,1.000,1,1,0,0,0,1,0,0,0,1,0,1.000,1.000
Kelley,Dick,BAK,0,.500,2,1,0,0,0,0,0,0,0,0,0,.500,.500
Roland,Jim,BAK,0,.333,3,1,0,0,0,0,1,0,0,0,0,.333,.333
Last,First,Team,IP,ERA,G,GS,W,L,SV,K,BB,R/9
Blasingame,Wade,BAK,9.0,4.00,2,2,0,1,0,7,3,15.00
Carroll,Clay,BAK,7.2,1.17,6,0,0,0,0,2,4,10.57
Culp,Ray,BAK,16.1,0.55,3,3,2,0,0,15,6,6.61
Fischer,Hank,BAK,11.2,3.86,6,0,0,0,0,5,10,18.51
Hargan,Steve,BAK,9.0,7.00,2,2,0,1,0,7,5,17.00
Herbel,Ron,BAK,11.1,3.97,8,0,2,0,1,7,6,10.32
Howard,Bruce,BAK,14.1,4.40,3,3,2,1,0,9,9,11.93
Kelley,Dick,BAK,8.0,3.38,4,0,2,1,0,6,6,13.50
Lopez,Marcelino,BAK,8.1,4.32,2,2,0,0,0,8,9,18.36
Reed,Ron,BAK,5.1,0.00,6,0,0,0,3,3,2,10.13
Roland,Jim,BAK,7.0,10.29,4,0,0,0,0,3,9,25.71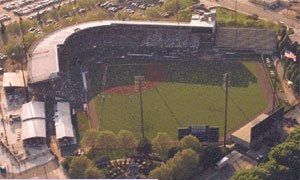 Cooper Stadium (355L, 400C, 330R)
Bakersfield 8-4 Columbus 7-5
Columbus Jets: George Spriggs (rf), Freddie Patek (3b), Lou Klimchock (1b), Rex Johnston (lf), Jose Martinez (2b), Don Bosch (cf), Gene Michael (ss), Ron Brand (c), Tom Parsons (sp)
Game 1, April 15
The Jets jumped all over our starter, Marcelino Lopez, scoring five runs in the 2nd inning, three of them off a George Spriggs homer into the left field bleachers at Cooper Stadium. They added a run in the 4th and another in the 6th. We got some hits off their starter, Tom Parsons (no runs on seven hits with eight strikeouts through seven), but couldn't string them together enough to produce a run. In the home 7th they added two more runs to their tally to make it 9-0. (By that time I was leaving my pitchers in even when they got into trouble, just to see how they responded.) Roger Repoz hit a solo homer in the 8th, and I was glad to see the goose-egg removed from the scoreboard. But then, with two out, Pavletich and Perez singled and Parker drew a walk to load the bases; Denis Menke singled in a run and Jose Cardenal sent one scooting down the right field line for two more and it was a more respectable 9-4. Lopez (3.0ip, 6h, 3bb, 6r, 6er, 4k, 7.94era) took the loss while Carroll, Roland, Kelley and Herbel all got some work out of the bullpen. Cardenal went 3-for-5 and Tony Perez, playing third base, finished 2-for-4. (The Dusters beat the Cards thanks largely to Billy Williams, who went 4-for-4 with two runs, two homers and five ribbies. Hudson should hock the family jewels if need be to keep Billy around.)
Lineup: Cardinal, Rojas, Repoz, Oliva, Alley, Pavletich, Perez, Parker, Lopez
Record: 8-5
Jets 9, Bullets 4
Game 2, April 16
We came into the second game hoping to avoid losing our fourth straight, and with the help of starter Steve Hargan and some great hitting, we did. We scored three runs in the second off righthander Tommie Sisk -- singles by Oliva and Hargan, doubles by Alley and Cardenal. They scored a run in the 3rd to trim our lead. We had a big chance in the 6th when Ed Acosta walked Oliva and Alley, who moved over to second and third on a passed ball by Jets catcher Ron Brand. But they threw out Oliva at home on a Pavletich grounder. Bailey walked to load 'em up again, but pinch hitter Mack Jones lined out to end the inning. In the 7th we got an insurance run thanks to an RBI single by Alley (3-for-3 with two walks, a run and two RBI), and another in the 8th on an RBI single by Cardenal (3-for-5, a run and two RBI). They scored a run in the 8th because of a fielding error by Cardenal, and another in the bottom of the 9th, but we ended up on the right side of the 6-3 score. Hargan (5.0ip, 3h, 1bb, 1r, 1er, 3k, 5.14era) got the win and went to 1-1 on the year.
Lineup: Cardenal, Rojas, Clendenon, Repoz, Oliva, Alley, Pavletich, Bailey, Hargan
Record: 9-5
Bullets 6, Jets 3
Game 3, April 17
We had some chances to score and so did the Jets in the early going of the rubber game, but the pitching of our Ray Culp and a combination of Columbus pitchers kept it scoreless until the 5th, when Don Pavletich hit a solo home run. Denis Menke opened the 7th with a double and scored when Jets second baseman Jose Martinez threw the ball away trying to beat Pavletich to first base. Against Culp (8.0ip, 5h, 2bb, 0r, 0er, 6k, 0.37era) Columbus got a man as far as third only once in the game. In the top of the 9th Roger Repoz hit his third homer of the season, a three-run shot to dead center field, putting us ahead 5-0. (Repoz may never be a great outfielder, but he can hit the ball a mile.) Dick Kelley relieved Culp and the Jets scored two runs on four hits, all singles, but it was too little too late. Culp improved to 3-0, Pavletich finished 2-for-3, Repoz 2-for-5 with three ribbies, and we headed for Hot Springs, Arkansas to take a couple of days off before meeting the Travelers. We're currently leading the league, two games ahead of the Salt Lake City Bees, though it's really too early to make anything of that.
Lineup: Cardenal, Clendenon, Repoz, Jones, Bailey, Alley, Menke, Pavletich, Culp
Record: 10-5
Bullet 5, Jets 2
Scouting Report:
Donn Clendenon (1B)

Clendenon has earned a shot in the Major Leagues. He has developed into a solid hitter, and needs just a little more work in his fielding. (He committed six errors in 72 games last year.)
Contact 72, Power 78, Speed 73, Eye 70, Arm 74, Range 77, Fielding 67, Health 81, Overall 73, Peak 80
1962 Stats: 232ab, 81h, 45r, 50rbi, 7hr, 18bb, 36k, 3sb, .349/.394/.534
Born: July 15, 1935 (Neosho, MO)
Bats Right
Throws Right
6'6"
210