In the days off between the two Atlanta series, we were visited at Evangeline Park by Juliette Baxter, the new sports reporter for the Bakersfield Californian assigned to cover the Bullets this season. Ms. Baxter wanted to interview me, but first I gave her a quick tour of the ballpark as she had not been here before.
The guys were at their drills, so I had the opportunity to introduce them to her, which, in hindsight, may have been a mistake, as many of them seemed to lose interest in baseball. We repaired to my office, but were interrupted so many times by players, on one pretext or another, that we agreed to conduct the interview at lunch -- a decision about which I would catch a lot of grief in the days and weeks to come. We would be seeing more of Ms. Baxter, not least because she would soon become a friend of Conn Hudson's younger daughter, Grace, not to mention an important part of the story of not only the Bullets but the Nevada Dusters, as well....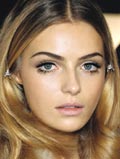 Juliette Baxter
Jay Ferguson Interview
Juliette Baxter, Bakersfield Californian
Q. You played baseball with Conn Hudson, and Ben Naylor was your manager at the time. Was that a factor, do you think, in your getting the call to manage the Bullets?
A. Probably had something to do with it. But I hope my work in college baseball was a factor, too.
Q. You were the head coach of the Southeastern University Wildcats for nine years. How different has the experience of managing a minor league affiliate been from your time at Southeastern?
A. Most college ballplayers aren't moving on to the professional level. So at that level a lot of it is about winning. They want to win, and you want to help them win. It's somewhat different here. You want to win, sure, but you have other priorities. Your job, first and foremost, is to prepare these players for The Show. And you have to give everyone all the opportunities you can, to better prepare them for the next level and to allow for complete analysis of their play.
Q. Of the current crop of Bullets, which ones do you think are ready, or almost ready, to move up?
A. I think most of the ballplayers on the club this year will play in the Majors eventually. How long they'll stay I don't know, because talent isn't the only thing that factors into a major leaguer's longevity. As for who may move up soon, the needs of the Dusters plays a big part. Generally, a lot of these guys could move up sooner based on their talent, except for the fact that the Dusters are filled with talented players at just about every position. That slows the whole process down.
Q. Is that a bad thing?
A. Not necessarily. The players in the affiliates get impatient sometimes, but this situation allows them to get more experience, and that's never a bad thing.
Q. So as to players who might move up this year. You don't want to name names?
A. The Duster outfield is a strong one, but should someone, God forbid, be injured, I'd expect to see Tony Oliva head to Las Vegas. The Dusters have Vic Power at first base for another year or two, I suspect, and they have a very capable backup in Gordy Coleman, but I think the organization has Donn Clendenon pegged as the heir apparent at that position.
Q. And some of the players might be traded. Are you involved at all in that process?
A. Not really. That depends entirely on what's best for the parent club, the Dusters.
Q. How about the decision about who moves up? Who is involved in that?
A. The ultimate decision is Conn Hudson's. But I get to put my two cents in, and so does Jim Fridley, head of the scouting department, and of course Nails -- Ben Naylor -- and his coaches.
Q. Do you have aspirations of managing at the major league level someday?
A. I'd be lying if I said I didn't. But we'll see how it goes here. I might end up returning to college baseball, which is a lot of fun.
Q. You've been in The Show, as you call it. It's in your blood, isn't it?
A. It always will be.
Oklahoma City 89ers: Joe Morgan (2b), Mike White (lf), Jimmy Wynn (cf), Rusty Staub (rf), Freddie Velazquez (c), Brock Davis (1b), Glenn Vaughan (ss), Ernie Fazio (3b), Conrad Cardinal (sp)
Game 1, April 13
The Houston organization has a lot of very promising talent on their AAA team -- second baseman Joe Morgan, outfielder Jimmy Wynn, first baseman/outfielder Rusty Staub, to name but a few. Ray Culp started, and looked shaky; the 89ers had plenty of baserunners in the early innings, and scored in the 3rd when Culp hit Mike White, who stole second and then scored on a Jimmy Wynn double. That tied the game at 1-all. In the 4th their starter, Conrad Cardinal, hit Pavletich, who moved to second on a Gene Alley hit, and scored when Mack Jones, pinch hitting for Culp, singled through the right side. Culp finished the day allowing one run on one hit while striking out five in four innings, but he showed me a lot when he issued three walks in the top of the 4th but regrouped to strike out Chuck Harrison to end the threat. Jose Cardenal hit a three-run homer in the 6th to expand our lead to 5-1 and Bob Bailey's solo blast in the 7th made it 6-2. In the 8th Clay Carroll came in with two on and nobody out; Mike White's double scored a run and Carroll walked Wynn to load the bases. But "Hawk" Carroll got the next three batters out. I keep them in to see how they do under pressure, and I would say both Culp and Carroll came through. It was Dick Kelley, though (two scoreless innings) who got the win.
Lineup: Cardenal, Parker, Repoz, Oliva, Bailey, Pavletich, Alley, Rojas, Culp
Record: 8-2
Bullets 6, 89ers 3
Game 2, April 14
We ran into trouble and his name was Jim Golden, Oklahoma City's starter, who held us scoreless until the 6th inning, while his teammates tallied seven runs against Wade Blasingame (two runs on six hits through four) and reliever Jim Roland (four runs on four hits in just 1.2 innings, and the seventh at Ron Herbel's expense.) We didn't even get a man in scoring position until the 6th, when Herbel singled, Donn Clendenon drew a walk, and Tony Oliva was hit by a pitch to load the bases. Bob Bailey whiffed but Jerry Grote reached second on an 89er error and two runs scored. Then Denis Menke struck out to end the inning with us still down 7-2. We picked up a run in the 7th thanks to another Oklahoma City miscue, then two more without help in the 8th as Grote walked, Menke doubled and Jesus Alou hit a single up the middle that drove them both in, making it 7-5, the final score. Blasingame took the loss and Roland's ERA shot up to 14.40, with his allowing eight runs in five total innings. I'm assuming that will improve. On their side, Jimmy Wynn went 3-for-4 while Mike White and Aaron Pointer finished 3-for-5. They posted four doubles and a roundtripper.
Lineup: Jones, Clendenon, Oliva, Bailey, Grote, Menke, Alou, Rojas, Blasingame
Record: 8-3
89ers 7, Bullets 3
Game 3, April 15
Our starter, Bruce Howard (2-0), got hammered early, allowing seven runs before I pulled him in the 3rd. We were down 9-2 by the end of four, so I took the opportunity to cycle most of the bullpen out to see how they handled adversity. Roland pitched himself into trouble in both innings he was on the hill, but twin killings saved him. Hank Fischer walked three batters in the 7th, and they added two runs on just one hit. He walked two more in the 8th but Rusty Staub popped up for the last out with the bases loaded to save us from further humiliation. In short, our pitcher was terrible across the board; the 89ers compiled 11 runs on 17 hits before it was done. In fact, they got so many hits the game lasted over four hours, and by the end of it most of the crowd had gone home. On the bright side, Tony Perez hit his first homer of the season, and Tony Oliva cranked one out of the park for three runs, with Oliva and Donn Clendenon finishing 3-for-5. Howard took the loss. Tonight we packed our bags and hit the road for our first road trip of the year, in which we face the Columbus Jets and the Arkansas Travelers.
Lineup: Cardenal, Clendenon, Repoz, Alley, Pavletich, Oliva, Perek, Menke, Howard
Record: 8-4
89ers 11, Bullets 7