Donn Clendenon has been an important ingredient in our success so far in 1963, with 34 hits in 116 at-bats in 37 games for a .293 average, seven home runs and 27 RBI, a.352 OBP and a .543 slugging percentage. This week Conn Hudson called from Vegas with a friendly warning: It was possible, maybe even likely, that Clendenon would be called up to the big club in a month or so. Looking on the bright side, that would alleviate the logjam I have at first base, with Tony Perez and Wes Parker waiting in the wings (although Perez has done fairly well at third base with Bob Bailey moved into the outfield.) It will hurt, though, to lose Donn. Hudson didn't go into details, but I assumed this meant the Dusters were thinking about trading Gordy Coleman. Though Gordy was the hero of the seventh game of last year's World Series with his walk-off home run, he hasn't been getting much playing time because Vic Power is having another fine year. Hudson asked my opinion regarding a possible trade and I suggested they look first at starters. There seems to be a plethora of good talent at the other positions, but you can never have enough capable pitchers -- especially starters. I made no mention of this conversation to Clendenon -- or to anyone else, for that matter. Such talks are understood to be strictly confidential.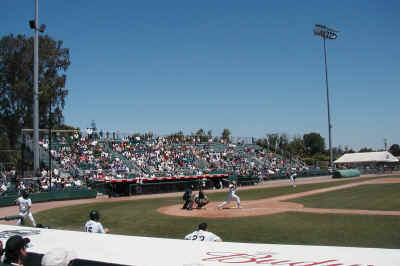 A view of the action from just behind the Bullets dugout
DL: Denis Menke (2b), ruptured knee ligament, 22 days. Ray Culp (sp), elbow tendonitis, 5 days.
Atlanta Crackers: Duke Carmel (rf), Gary Kolb (cf), Corky Withrow (1b), Doug Clemens (lf), Jeoff Long (3b), Mike Shannon (c), Phil Gagliano (ss), Jerry Buchek (2b), Steve Carlton (sp)
Bakersfield Bullets (26-13) Atlanta Crackers (16-20)
Game 1, May 16
Ray Culp was initially scheduled for this game, but since he's on the DL for another week we moved down the rotation to the # 2 guy, Wade Blasingame (3-1), who must face the best pitching prospect in the Cardinals organization -- Steve Carlton (3-5). An error by Pavletich helped the Crackers score a run in the 1st but in the 2nd we loaded the bases for Jose Cardenal, who drove in a pair with a sharply hit single through the left side. Duke Carmel's RBI double in the Atlanta 5th tied it up but we regained the lead in our half of the inning when Donn Clendenon doubled and scored on a Roger Repoz single. They tied the game again in the 8th with a single against Ron Reed, but in the 9th Cookie Rojas singled and Cardenal drove him in with a double for the winning run. Blasingame did well -- two runs on four hits through five -- but his pitch count rose in a hurry so I turned to the bullpen combo of Carroll, Reed and Dick Kelley, with the latter getting the win. Cardenal finished 3-for-5 with three RBI. The Padres have won eleven in a row and remain hot on our heels.
Lineup: Cardenal, Alley, Clendenon, Repoz, Bailey, Pavletich, Perez, Rojas, Blasingame
Record: 27-13
Bullets 4, Crackers 3
Game 2, May 17
When Bruce Howard (3-3) walked the first three batters he faced and then served up a three-run homer to Mike Shannon I had a feeling we were in for a long day, especially since we couldn't get anything going against Atlanta starter Jim Bibby (1-1). After that rocky first, Howard settled down, but we didn't get our first hit until the 3rd and didn't mount a threat of any sort until the 5th, when we had two men on with two outs -- only to have pinch hitter Roger Repoz fly out. In the next frame we had the same situation and Mack Jones struck out to end the inning. They scored again in the 9th and in our half of the inning Donn Clendenon opened with a single and took second on defensive indifference, only to watch Bibby fan Jones and Bob Bailey and Cookie Rojas make the last out with a fly ball to left field. Howard took the loss and now has a 7.81 ERA. I might consider calling someone else up, but there really isn't anyone available except Larry Jaster, an offseason draft pick with the Montana Wolves, and he's just not ready for this level. Fortunately, San Diego finally lost a game, and so remain one game behind us.
Lineup: Cardenal, Alley, Clendenon, Bailey, Jones, Perez, Rojas, Grote, Howard
Record: 27-14
Crackers 6, Bullets 0
Game 3, May 18
I gave Cardenal, Repoz and Alley a day off to give Paul Blair, Jesus Alou and Felix Millan some playing time as Steve Hargan (4-3) took on Dick Hughes (1-2) in the rubber game -- which remained scoreless through twelve innings. Hargan got into trouble a few times, but always managed to find a way out. He finished allowing just four hits in five innings. I might have kept him in longer except that Blair drew a walk and stole second and I wasn't sure how many more men we'd have in scoring position, so I pinch hit Mack Jones for Hargan. Nothing came of it, as could be said for several other late-inning scoring opportunities we had. They had chances too, like in the 7th, when Duke Carmel hit a one-out triple against Hank Fischer. I called on Ron Herbel to get the last next two outs, and he did. We used six pitchers who combined for a total of thirteen strikeouts; Atlanta utilized a total of five hurlers. In the 13th the Crackers loaded the bases and Clay Carroll threw a wild pitch, allowing a run to score. I thought it was over, but I should have known better; in the bottom of the inning Donn Clendenon saved us with a solo homer to tie the game. And in the 14th Roger Repoz came in off the bench to hit an RBI single to give us the win. Carroll got the win. I like just about everything about baseball, but what I love the most are games like this one. San Diego won today, as well, so we're one game up on them.
Lineup: Alou, Millan, Clendenon, Bailey, Pavletich, Perez, Rojas, Blair, Hargan
Record: 28-14
Bullets 2, Crackers 1
LEADERBOARDS-Pitching
ERA
Ray Culp (NEV) 1.12 ... Dennis Musgraves (BUF) 1.97 ... Pat Jarvis (ARK) 2.98 ... Bill Singer (SPO) 3.13 ... Tom Parsons (COL) 3.33
Games Pitched
Clay Carroll (BAK) 22 ... Hank Fischer (BAK) 21 ... Ron Herbel (BAK) 20 ... Larry Yellen (OKC) 20 ... Jack Warner (SLC) 19
Hits / 9IP
Ray Culp (BAK) 5.77 ... Bill Singer (SPO) 6.91 ... Jeff James (ARK) 7.18 ... Dennis Musgraves (BUF) 7.51 ... Steve Carlton (ATL) 7.69
Home Runs Allowed
Dick Hughes (ATL) 5 ... Nelson Briles (ATL) 5 ... Steve Carlton (ATL) 4 ... Jay Dahl (OKC) 4 ... John Flavin (SLC) 4
Innings Pitched
Bill Singer (SPO) 69.0 ... Nelson Briles (ATL) 64.1 ... Steve Carlton (ATL) 62.0 ... Fergie Jenkins (ARK) 55.0 ... Jack Billingham (SPO) 54.1
Opp. Batting Average
Ray Culp (BAK) .175 ... Bill Singer (SPO) .202 ... Jeff James (ARK) .208 ... Steve Carlton (ATL) .219 ... Dennis Musgraves (BUF) .222
Quality Starts
Bill Singer (SPO) 7 ... Steve Carlton (ATL) 6 ... Dennis Musgraves (BUF) 6 ... Jeff James (ARK) 5 ... Ray Culp (BAK) 5
Saves
Jim Dickson (OKC (8) ... Ron Reed (BAK) 5 ... Don Rowe (BUF) 5 ... Dick Calmus (SPO) 5 ... Gary Wagner (ARK) 4
Strikeouts
Steve Carlton (ATL) 10.89 ... Dick Hughes (ATL) 10.46 ... Fergie Jenkins (ARK) 8.67 ... Nick Willhite (SPO) 8.12 ... Dick Rusteck (BUF) 7.74
Walks / 9 IP
Fergie Jenkins (ARK) 1.80 ... Dennis Musgraves (BUF) 2.50 ... Tom Parsons (COL) 2.59 ... Pat Jarvis (ARK) 2.81 ... Bill Singer (SPO) 2.87
Wins
Pat Jarvis (ARK) 5 ... Ray Culp (BAK) 5 ... Dick Kelley (BAK) 5 ... Dennis Musgraves (BUF) 5 ... Nelson Briles (ATL) 4