We had a visit this week from Grace Hudson, Conn's younger daughter, who was on her way back home to Las Vegas from the University of California-Berkeley, where she is just now completing her freshman year. I have not had the pleasure of meeting the older sister, Cat, who is a model, but they say the two are as different as night from day. Grace struck me as shy and pleasant young lady. She and Juliette Baxter immediately became friends, to the extent that Grace stayed a couple of days longer than planned, and they attended all the games in this series with the IL-leading Bisons. Grace Hudson's presence brought some of the national press to Evangeline Park, which I was glad of, since it gives our club and players a bit more media exposure. A footnote to all this: a week later Juliette accepted an invitation from Grace to visit her in Las Vegas, and it was about then that the rumors started, as some speculated that the Bakersfield Californian reporter's ambition was to insinuate herself into the Nevada Dusters organization. I would try to stay out of it, without much success, thanks to the existence of another rumor -- that my relationship with Juliette was not strictly business.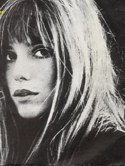 Grace Hudson
DL: Denis Menke (2b), ruptured knee ligament, 25 days. Ray Culp (sp), elbow tendonitis, 7 days.
Buffalo Bison: Billy Murphy (cf), Ron Hunt (2b), Tim Harkness (1b), Cleon Jones (lf), Ron Swoboda (rf), Chris Cannizzaro (c), Ted Schreiber (3b), Al Moran (ss), Dick Rusteck (sp)
Bakersfield 24-12 Buffalo 22-14
Game 1, May 13
The Bisons lead the International League with a .256 team batting average and 4.16 ERA. I was hoping we would be able to handle their starter, lefty Dick Rusteck, who has started the year 1-5, and gave Donn Clendenon the day off by putting Wes Parker at first base, and replacing Roger Repoz, who is hitting only .214 against southpaws, with Paul Blair in center, installing Jesus Alou in left. They have a very good hitting lineup with Ron Hunt (who was 4-for-5 today), Tim Harkness, Cleon Jones (3-for-4) and Ron Swoboda, and it turned out to be more than our starter, Bruce Howard, could handle. Bruce allowed six runs on eleven hits in 3.2 innings. In the 7th a throwing error by shortstop Gene Alley allowed another Buffalo run to score and we were trailing 7-2. But I've learned you should never count our guys out. In the bottom of the 6th Paul Blair hit a two-run double and pinch-hitter Tony Perez added another run with a two-bagger of his own. Then, in the 7th, Buffalo reliever Bill Wakefield walked in two runs with the bases juiced, Cookie Rojas and Jesus Alou hit RBI singles, and a pinch-hitting Clendenon contributed a two-run single to put us on top 11-7. They got a run in the 8th against closer Ron Reed but we got it back in the bottom of the inning and won 12-8. Don Pavletich continues to be hot at the plate, going 2-for-3 with two walks, two runs and two RBI. Blair had a good day -- 2-for-4 with two runs, three RBI and a base theft. Hank Fischer got the win and is 3-0.
Lineup: Cardenal, Alley, Pavletich, Bailey, Parker, Rojas, Blair, Alou, Howard
Record: 25-12
Bullets 12, Bisons 8
Game 2, May 14
We dug ourselves a hole early in this one. Already leading 1-0, the Bisons picked up two more runs in the 2nd when a throwing error by Donn Clendenon put two men on when we should have been out of the inning. The next Buffalo batter, Ron Hunt, hit a two-run single a moment later. Their left fielder, Cleon Jones, opened the 3rd with a homer to make it 4-0. We had trouble with Buffalo starter Dennis Musgraves all day long. He was throwing 100-mph fastballs and it wasn't until the 6th that we finally scored; Gene Alley opened the inning with a triple and scored on a Clendenon single. Steve Hargan lasted five innings, allowing four runs (two of them earned) on five hits, striking out three. Hank Fischer and Ron Herbel did a good job out of the bullpen. In the 9th I pinch hit Felix Millan for Herbel and Felix cranked a solo homer out of Evangeline Park to make it 4-2, the final score. Hargan took the loss and fell to 4-3, while Musgrave, who seems destined for the big leagues sooner rather than later, is now 5-1. Clendenon finished 2-for-3, Alley 2-for-5. Our lead in the PCL has shrunk to one game, as the San Diego Padres won their ninth in a row today.
Lineup: Cardenal, Alley, Clendenon, Repoz, Pavletich, Bailey, Perez, Rojas, Hargan
Record: 25-13
Bisons 4, Bullets 2
Game 3, May 15
Dwight Siebler got his first start as a Bullet and did a good job, allowing just one run on two hits in five innings and striking out three. But once again it seemed we were being dominated by the Buffalo starter -- Galen Cisco, in this case . Cisco went the whole nine. He struck out the side in the 6th. We had a chance in the 8th when Cisco walked the first two batters, Gene Alley and Donn Clendenon. Then Bob Bailey popped up, Tony Perez flied out, and Alley tagged up and moved to third before Clendenon was picked off first to end the inning. Cisco walked Mack Jones (starting for Roger Repoz in center) to open our 9th, Jerry Grote (starting as backstop in place of Don Pavletich) singled him over to third, and I called for the suicide squeeze, with Jones, who is fast, scoring on a perfectly hit bunt by Cookie Rojas. Once again the bullpen came through, with Hank Fischer, Clay Carroll and Dick Kelley combining for four scoreless innings. Herbel, Fischer and closer Ron Reed all have ERAs under 2.00; Carroll is at 2.30 and Kelley 3.42. With so many question marks attached to the starting rotation, it's great to have such a dependable fire brigade. Kelley got the win and is 4-1. The Padres won their tenth in a row, so we're still just a game ahead.
Lineup: Cardenal, Alley, Clendenon, Bailey, Perez, Jones, Grote, Rojas, Siebler
Record: 26-13
Bullets 2, Bisons 1
Scouting Report
Hank Fischer (RP)

(RHP) Hank has pitched 38 innings for Bakersfield so far this season, compiling a 1.86 ERA with a 3-0 record and one save. He has had some injury troubles in the past, but if his arm stays healthy I see him on a major league pitching staff someday soon.
Endurance 43, Control 75, Power 85, Movement 52, Defense 70, Hitting 64, Health 80, Overall 68, Peak 79
Pitches: Fastball 74, Slider 67, Change 61
1962 stats: 0gs, 3W, 1L, 1.01era, 26.2ip, 6r, 3er, 20h, 1hr, 3bb, 11k, .208baa
Born: January 11, 1940 (Yonkers, NY)
Bats Right
Throws Right
Nickname: Bulldog