We faced the Tacoma Giants for the first time this season and, considering how the league standings looked, it was going to be an important series. Both the Giants and the San Diego Padres stood at 20-14, two games behind us. We hadn't played either club and needed to find out how we stacked up against them. The other two clubs in the league, Spokane (12-22) and Salt Lake City (9-28), seemed in peril of dropping out of contention early. Still, it was fairly early in the campaign, and I didn't want to put too much pressure on the guys, so I approached the series as I would any other, opting to stick with the rotation order and start # 5 Marcelino Lopez in the first game. Lopez was 0-3 with an ERA over 7.00 and I'd already been made aware of speculation in the Dusters front office that perhaps he wasn't ready for AAA. Facing the hard-hitting Giants would be a big test for him, especially as Tacoma batters seemed to prefer facing lefties. As it turned out, Marcelino didn't even last three innings, and that evening I discussed his future with Conn Hudson by phone and it was decided to send Lopez down and call up Dwight Siebler, who was 2-2 with a 4.65 ERA for the Salt Lake City Saints. I told Marcelino I was sure I would see him again, which is true. But I doubt it will be this year, unless we lose a starter or two.
DL: Denis Menke (2b), ruptured knee ligament, 28 days.
Tacoma Giants: Damaso Blanco (rf), Bobby Etheridge (3b), Frank Johnson (cf), Bob Barton (lf), Dick Dietz (1b), Dave Marshall (c), Cesar Gutierrez (ss), Len Gabrielson (2b), Dick Estelle (sp)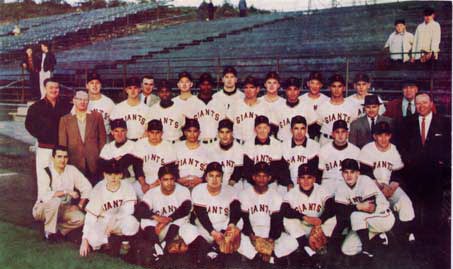 The Tacoma Giants
Game 1, May 10
It was Marcelino Lopez (0-3) against the talented Dick Estelle (1-1) in the first game, and Marcelino had another bad outing, lasting less than three innings and really getting hammered in the 3rd. We were leading 1-0 when Estelle, first to bat in the Tacoma half of the inning, reached on a throwing error by Tony Perez at third. Then Lopez walked Etheridge. Frank Johnson doubled in Estelle to tie the game and Etheridge scored on a Bob Barton grounder. Dave Marshall singled in Johnson, Cesar Gutierrez followed with a two-run double, and Len Gabrielson singled in another to make it 6-1. That sent Lopez to the showers. We scored three runs in the bottom of the third, the last one on a throwing error by their third baseman. They were ahead 7-4 when Jose Cardenal hit a two-run homer in the 8th off Bob Garibaldi, but it was three-up and three-down for us in the 9th and we came up on the short end. Lopez allowed six runs and ended the day with a 7.76 ERA; Kelley, Herbel, Fischer and Carroll all performed well out of the bullpen. It was Cardenal's third homer of the season, and he went 2-for-4 on the day. Now our lead over the Giants and the Padres has been trimmed to two games.
Lineup: Cardenal, Alley, Clendenon, Repoz, Perez, Rojas, Grote, Alou, Lopez
Record: 22-12
Giants 7, Bullets 6
Game 2, May 11
I thought we had the edge in starters for this one, with our Ray Culp (4-0) facing Jim Constable. But Culp was a little off his game while Constable started out strong. We played sloppy baseball, with three errors, a passed ball by Pavletich, and a wild pitch by Culp. Tacoma took the lead early thanks to Len Gabrielson's two-run homer in the 2nd. But we scored four runs on three hits in the 4th and might have had more with the bases loaded and nobody out. In the Giants' 6th the passed ball put Dave Marshall on second, where he scored on a single by Jim Ray Hart to narrow our lead to 4-3. But Cookie Rojas opened our 6th with a homer. Hank Fischer held the Giants scoreless for two innings and in the 9th Tacoma loaded the bases with closer Ron Reed on the hill, but we eked out the win. Culp (6.0ip, 4h, 1bb, 3r, 3er, 3k, 1.12era) improved to 5-0 and Rojas finished 3-for-4 with a double and the dinger and two RBI. The win drops Tacoma three games back, but San Diego won today and remains two behind us.
Lineup: Cardenal, Alley, Clendenon, Repoz, Pavletich, Bailey, Rojas, Blair, Culp
Record: 23-12
Bullets 5, Giants 3
Game 3, May 12
Mack Jones started in right field to give Jose Cardenal a much-deserved day off, and I moved Bailey into left field so that Perez, at third, could get into the lineup to face Bobby Bolin, the ace of the Tacoma staff, who comes into the game with a .071 ERA. I thought of this one as, probably, the most important game of the year so far, and it turned out to be one of the best. Wade Blasingame gave up two runs in the 1st and another in the 2nd, but he deserves some credit for getting out of a jam in the 4th, when the Giants had a man on third with one out but couldn't add to their lead. In our half of the 2nd Perez hit an RBI single to get us on the board. In the 6th Perez hit a two-run homer to tie the game before Bob Bailey followed with a solo blast to put us ahead 4-3. They came right back to tie the game in the top of the 7th, and regained the lead in the 8th when Hank Fischer walked Jim Ray Hart, who reached second on a passed ball -- the second by Pavletich in two games -- and third on a sac bunt by Ernie Bowman. Hart scored on a grounder by Cesar Gutierrez (one of the best hitters in the league this year). Pavletich made amends by hitting a two-bagger and then scoring on a Cookie Rojas double in the bottom of the 8th to tie the game. They got a man to third in the top of the 9th but left him stranded; in the bottom of the inning Mack Jones and Wes Parker singled and Roger Repoz drove them both in with a knock into the right field gap. Jones was twice hit by Bolin, and the second time Mack went after him and we all went out to help. It took a while to break up the brawl. One of the umps agreed with me that it had to be intentional, but I expect I'll get fined and so will Mack and that's okay. Pavletich finished 2-for-3 with three runs scored, but I chewed him out about the passed balls, just the same. We remain two games up on San Diego. The Padres have won seven straight.
Lineup: Jones, Alley, Clendenon, Repoz, Pavletich, Perez, Bailey, Blair, Blasingame
Record: 24-12
Bullets 7, Giants 5
LEADERBOARDS-Batting
Batting Average
Mickey Harrington (ARK) .324 ... Bob Bailey (BAK) .320 ... Mike White (OKC) .313 ... Don Pavletich (BAK) .312 ... Dick Nen (SPO) .310 ... Lou Klimchock (COL) .299
Doubles
Danny Napoleon (BUF) 9 ... Dave Wissman (COL) 9 ... Lou Klimchock (COL) 9 ... George Spriggs (COL) 8 ... Rusty Staub (OKC) 8
Extra Base Hits
Rusty Staub (OKC) ... Don Pavletich (BAK) 13 ... Donn Clendenon (BAK) 13 ... George Spriggs (COL) 12 ... Roger Repoz (BAK) 10 ... Joe Morgan (OKC) 10
Hits
Rusty Staub (OKC) 43 ... George Spriggs (COL) 40 ... Lou Klimchock (COL) 38 ... Ken McMullen (SPO) 38 ... John Herrnstein (ARK) 37... Jose Cardenal (BAK) 36
Home Runs
Donn Clendenon (BAK) 7 ... Rusty Staub (OKC) 5 ... Joe Morgan (OKC) 5 ... Don Pavletich (BAK) 4
OPS
Rusty Staub (OKC) 1.051 ... Joe Morgan (OKC) .944 ... Don Pavletich (BAK) .887 ... Donn Clendenon (BAK) .869 ... Bob Bailey (BAK) .842 ... Jimmy Wynn (OKC) .842
RBI
Rusty Staub (OKC) ... Donn Clendenon (BAK) 24 ... Jimmy Wynn (OKC) 24 ... Tim Harkness (BUF) 23 ... Roger Repoz (BAK) 21 ... Bob Bailey (BAK) 21
Runs
Joe Morgan (OKC) 31 ... Jose Cardenal (BAK) 25 ... Donn Clendenon (BAK) 25 ... Cleo James (SPO) 25 ... Don Pavletich (BAK) 24 ... George Spriggs (COL) 23
Slugging Pct
Rusty Staub (OKC) .613 ... Donn Clendenon (BAK) .541 ... Don Pavletich (BAK) .523 ... Joe Morgan (OKC) .506 ... Bob Bailey (BAK) .476 ... Roger Repoz (BAK) .432
Steals
Freddie Patek (COL) 13 ... Jose Cardenal (BAK) 11 ... Cleo James (SPO) 10 ... Jose Martinez (COL) 6 ... Tommy Harper (SDP) 6
Total Bases
Rusty Staub (OKC) 68 ... Donn Clendenon (BAK) 59 ... George Spriggs (COL) 59 ... Don Pavletich (BAK) 57 ... Ken McMullen (SPO) 54
Walks
Jimmy Wynn (OKC) 27 ... Joe Morgan (OKC) 20 ... Jose Cardenal (BAK) 20 ... Roger Repoz (BAK) 20 ... Al Ferrara (SPO) 20