Standings (as of ) May 7, 1963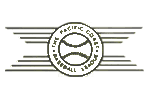 PACIFIC COAST LEAGUE
Bakersfield 20-11 .645 --- .269 3.87
Tacoma 17-14 .548 3.0 .263 3.51
San Diego 17-14 .548 3.0 .269 3.68
Spokane 10-22 .313 10.5 .241 5.14
Salt Lake City 9-25 .265 12.5 .241 5.70
INTERNATIONAL LEAGUE
Buffalo 21-11 .656 --- .260 3.87
Arkansas 20-10 .588 2.0 .258 3.79
Atlanta 15-13 .536 4.0 .268 3.99
Oklahoma City 15-16 .484 5.5 .268 3.99
Columbus 15-19 .441 7.0 .251 3.71
DL: Denis Menke (2b), ruptured knee ligament, 31 days. Jerry Grote (c), strained lower back, 3 days.
Columbus Jets: George Spriggs (rf), Freddie Patek (3b), Lou Klimchock (1b), Dave Wissman (lf), Jose Martinez (2b), Don Bosch (cf), Gene Michael (ss), Ron Brand (c), Tommie Sisk (sp)
Bakersfield 19-11 Columbus 15-18
Game 1, May 7
Roger Repoz returned to the lineup after a long stint on the DL, resuming his post in center field while Jose Cardenal moved to right. With Tony Perez batting so well, I gave Bob Bailey a try in left. But, in spite of fielding what I thought would be our best-hitting lineup, we managed just seven hits in this game, while the Jets tallied fifteen. Don Pavletich opened the 2nd with a triple and scored on a Bailey sac fly. Then a Jets error and a wild pitch by their starter, Tommie Sisk, allowed another run to score. They got four hits in the bottom of the inning, but just one run. That turned out to be the story of the game. Wade Blasingame allowed just one walk and struck out only two, while giving up twelve hits. And yet they managed but three runs. We were ahead 4-3 going into the bottom of the 8th with reliever Hank Fischer on the mound; Bob Oliver singled and George Spriggs bunted his way aboard. And then, with two on and one out, Oliver tried to steal third and Pavletich threw him out. I think that was the key play of the game. Freddie Patek popped up to end the 8th and Fischer retired the side in order in the 9th to preserve the win for his first save. Blasingame got the win, improving to 3-1. Repoz went 1-for-4 with a run, an RBI and a stolen base. Second baseman Cookie Rojas finished 2-for-4 and has his average up to .291.
Lineup: Cardenal, Alley, Clendenon, Repoz, Pavletich, Bailey, Perez, Rojas, Blasingame
Record: 20-11
Bullets 4, Jets 3
Game 2, May 8
Shortstop Gene Alley deserved a day off and since I didn't have anyone else who could play in the middle infield, I started Felix Millan. I assumed the key would be how well Bruce Howard (2-3) pitched. I was wrong. By the end of four we were leading 10-1. By the end of the game we'd accumulated a season-high twenty-four hits. They brought six pitchers to the hill against us and we hit them all. Starter Steve Blass gave up six runs on nine hits. Donn Clendenon went 4-for-6, Bob Bailey 4-for-5, Millan 3-for-6, and Tony Perezwent 5-for-6 with four RBI. Three of his hits were two-baggers. Oh, and Jose Cardenal stole two bases. Howard (5.0ip, 4h, 4bb, 1r, 1er, 5k, 6.82era) got the win and I even had the luxury of giving the struggling Jim Roland an inning. I don't necessarily like beating a team this badly, but on the other hand it was a real confidence-builder for the guys. Besides, I've been on the receiving end of a drubbing like this, and no doubt will be again. That's baseball. Tonight Conn Hudson called to say he'd heard about the game and wanted me to send up everybody who'd hit over .500. He was kidding, of course. Most of the Duster regulars are at .300 or better.
Lineup: Cardenal, Clendenon, Repoz, Pavletich, Bailey, Perez, Rojas, Millan, Howard
Record: 21-11
Bullets 16, Jets 1
Game 3, May 9
Bailey is hurt again -- a mild concussion -- so Jesus Alou got the nod for left field, and Wes Parker spelled Donn Clendenon at first. Alou hit a two-run triple and then scored on a single by our starter, Steve Hargan, to give us a 3-0 lead early. But in the home 4th doubles by Lou Klimchock and Jose Martinez, combined with an error by Gene Alley, gave the Jets two runs. Alley made amends in the 5th with a RBI double of his own, but in the bottom of the 5th they scored a pair to tie the game with nobody out. I went out to talk to Hargan and he calmed down and got the next three batters out to end the inning, and in the 6th Mack Jones hit a RBI single to put us back on top, 5-4. It was just a matter of holding on, and Hank Fischer and Ron Herbel combined for four scoreless innings to give Hargan (5.0ip, 9h, 0bb, 4r, 3er, 0k, 5.18era) the win and a 4-2 record on the year. Parker had a good day -- 2-for-2 with a double, a pair of walks and two runs. So we get a series sweep and head home for a nine-game stand starting off with the Tacoma Giants, who are now three games behind us in the PCL. We've won five in a row and six of our last ten, so things are looking up. But the Giants will be a real test. They have, arguably, the best pitching staff, overall, in the league.
Lineup: Cardenal, Repoz, Pavletich, Alley, Perez, Parker, Rojas, Alou, Hargan
Record: 22-11
Bullets 5, Jets 4
Scouting Report:
Tony Perez (1B)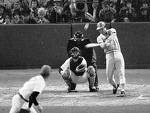 Perez gets a hit
Perez is batting .550 in his last six games. He may need some time to adjust to major league pitching, but I am confident he can do it. Perez plays third here to get into the lineup, and we can get away with that at this level, but he lacks the arm and range for the hot corner in the big leagues, and should be a first baseman.
Contact 70, Power 75, Speed 56, Eye 69, Arm 66, Range 65, Fielding 67, Health 80, Overall 70, Peak 92
1962 stats: 242ab, 99h, 62r, 76rbi, 17hr, 38bb, 32k, 1sb, .409/.483/.715
Born: May 14, 1942 (Ciego de Avila, Cuba)
Bats Right
Throws Right
6'2: 205